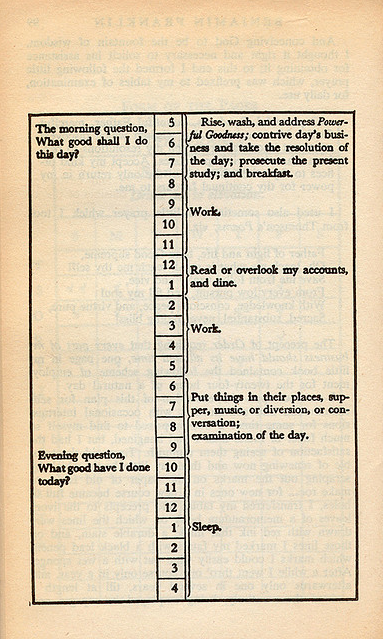 I really like the idea of routine, even though I would like my routine to have an open spot for out-of-the-ordinary activities. I find Benjamin Franklin's Daily Schedule intriguing, albeit a bit static. The language is charming and thought-provoking, don't you think? I also really love the thought of "taking the resolution of the day". I think I might adopt that behavior, as well as "examining" the day before bed.
What do you think about a day reduced to the question of what good you will do and have done each morning and evening, respectively? Would this help you to nurture yourself and others? Would you be more or less productive?
I also enjoy
this witty and illustrated post on Benjamin Franklin
by Maira Kalman at
And The Pursuit Of Happiness
, via
The NY Times
.
Giving credit where credit is due: I found this book page at
Swiss Miss
. She found it from her friend
Chris
who found it on
Nick Bilton's Flickr
. It was published in Benjamin Franklin: Autobiography and Other Writings from the Oxford Press. It is now public domain.